The management console is available to inSSIDer Technician users that have administrative privileges. From the management console, admins can manage technician user accounts and company threshold configurations.
Access the Management Console
To access the management console, you will need your company's unique URL that was provided during implementation. Contact MetaGeek Support if you need assistance recovering your URL.
First Time Login
If this is your first time using the inSSIDer Technician Management Console, check your email inbox for an invitation link that will direct you to the password set screen.
Locate the

inSSIDer Technician Invitation

email sent from

support@inssider.tech

Click on the

Set Password

button

This will direct you to your management console and prompt you to set a password

Enter your desired password

Click

Set Password
Now that your account is setup, check out the administrative functions available on the left rail.
Return Login
Navigate to your company's unique inSSIDer Technician URL

Enter your user credentials

Click

Login
If you do not remember your password, select the Forgot Password link to recover your password.
Manage Technicians
To manage technician user accounts, log into your management console.
Create New Technician

Click

Add Technician

on the left rail

Enter the required fields, which are:

First Name

,

Last Name

, and

Email

Enter a

Technician ID

(this is an optional field)

Click

Add
Once the technician is added, they will receive an inSSIDer Technician Invitation in their email inbox with a link to complete their account.
Invitations can be re-sent by selecting Re-Invite User from the ellipsis option on the technician list.
Deactivate Technician
Deactivating a technician prevents them from logging into the inSSIDer Technician application and from sending report data.
Select

Technicians

on the left rail

Locate the technician you want to deactivate

Click the

ellipsis

on the right side of the technician's row

Click

Edit User

Uncheck the

Is Active

checkbox

Click

Update

If the user needs to regain access, follow the same steps above and check the Is Active checkbox to reactivate the account.
Manage Company Configurations
inSSIDer Technician allows customers the ability to configure measurement thresholds for their company. These settings can be configured by account administrators in their company's management console.
Log into the management console and select Configurations on the left rail to access the configurations section.
Though configurations can be altered by an admin at any time, the new settings will only be updated on the technician devices when they log out and then log back in. It is recommended that the settings are configured prior to technician usage to avoid technicians working off of incorrect configurations. If configurations are updated while technicians are actively using inSSIDer Technician, inform them to log out and log back in to refresh the configurations.
Speed Test Servers
If you have a list of specific speed test servers that should be used for throughput testing, add them to this section. If no speed test servers are added, then inSSIDer Technician will fall back to a master list of speed test servers when conducting throughput tests. Also, if all configured speed test servers are unavailable when a technician conducts a throughput test, then inSSIDer Technician will fall back to the master list.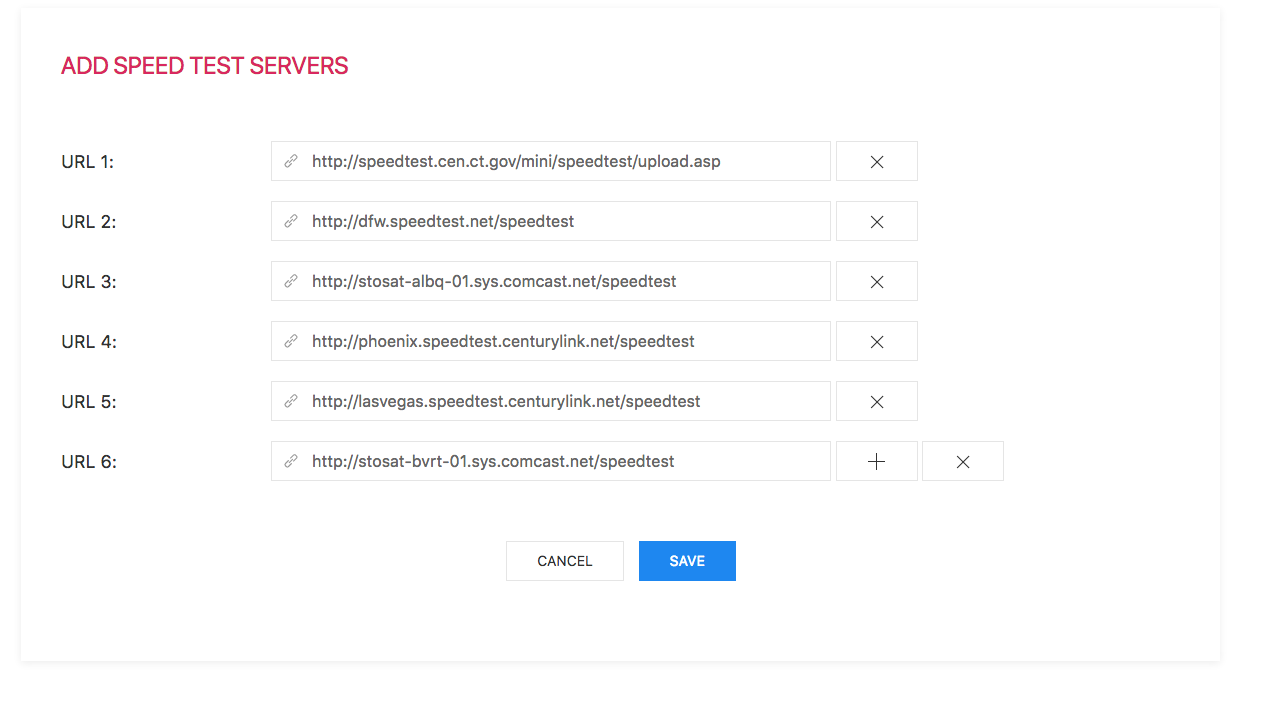 To manage speed test servers:
Click

Edit

Enter the URL for the speed test server

Click the

+

button to add a new speed test server

Click the

X

button to remove a speed test server

Click

Save

to confirm list
When technicians run a throughput test, inSSIDer Technician will ping the list of servers and will conduct the speed test on the server with the lowest latency.
Signal Strength

The default minimum signal strength is set to -65 dBm. This can be edited to reflect the standard signal strength threshold for your organization.
For helpful information for understanding signal strength, check out the Understanding WiFi Signal Strength article.
Throughput Thresholds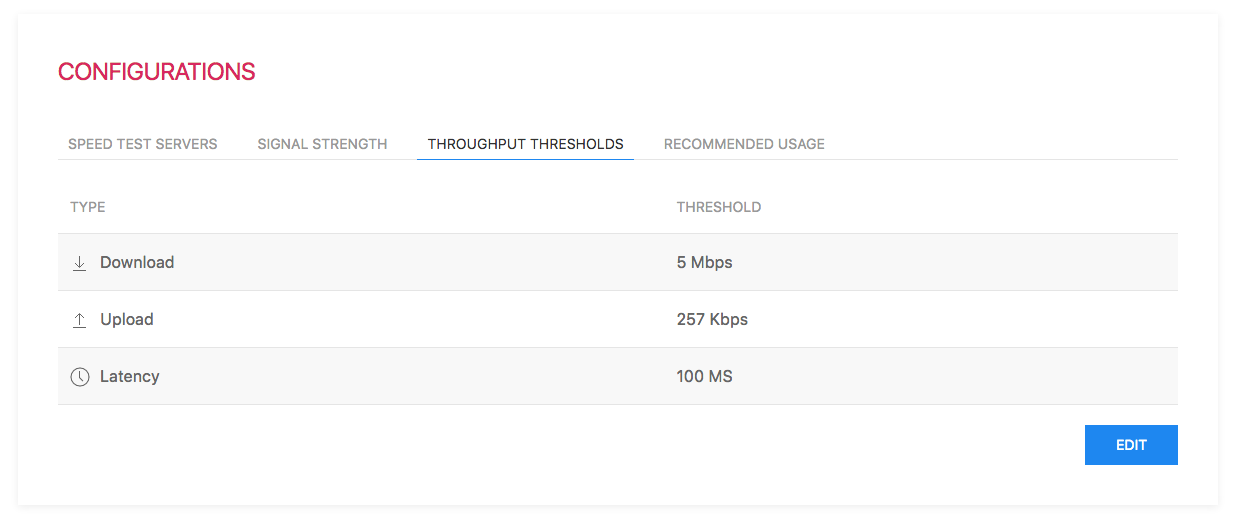 Throughput thresholds can be configured to reflect organization standards. Download and Upload values reflect the minimum values in Mbps or Kbps that is required whereas Latency reflects the maximum amount of allowable latency.
Recommended Usage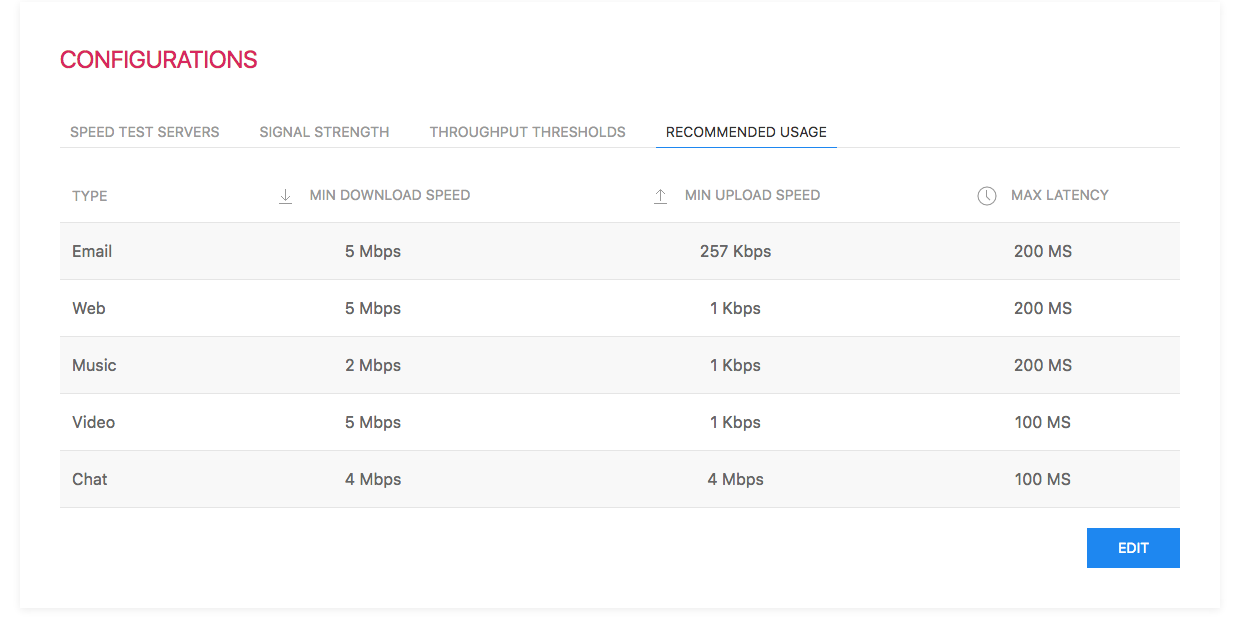 Recommended internet usage thresholds can be configured for email, web, music, video, and chat. Recommended usage is based off of a combination of download, upload, and latency criteria for each usage type.