Chanalyzer features a library of common signatures that you might see in the spectrum. You can find them in the "Interfers" tab. If you discover a new signature that we haven't documented or included in Chanalyzer, you can add your own custom signatures.
Create a Custom Signature
1. Let Chanalyzer gather data. Chanalyzer needs at least one minute of data to know the shape of the signature. If the signature's shape isn't consistent, or if Chanalyzer doesn't have enough time to know that it is consistent, it won't be able to make a clean signature.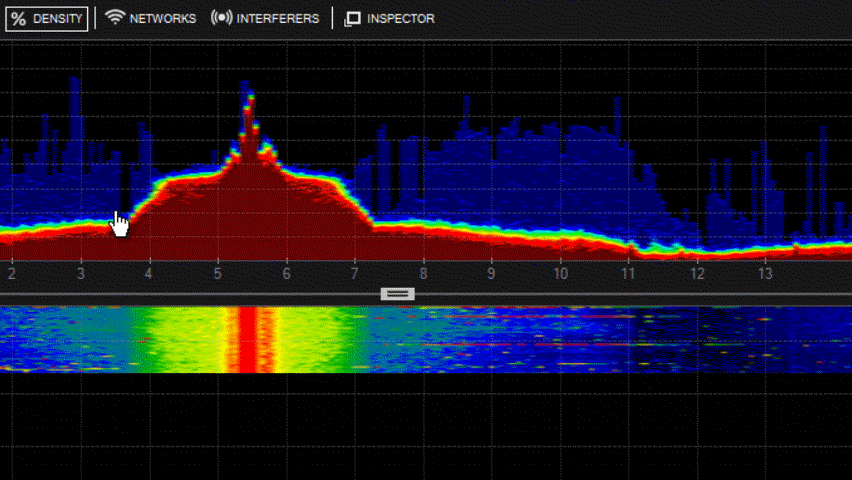 2. Select a timespan of at least one minute where the transmitter was active using the Waterfall Navigation.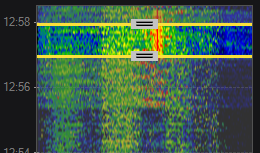 3. Select the signature in the Density view by clicking and dragging sideways over the shape using the left mouse button. When you release the mouse button, select Create new Interferer Identifier in the drop-down menu.
Note: It's generally a good idea to be as specific as possible with what you select to get a nice, clean signature. 

Note: If Chanalyzer doesn't have enough time selected to create a signature, the menu option will be greyed out. Select a timespan of at least one minute with the Waterfall Navigation, and try again.
4. Categorize and name your signature. Place your new signature in a category, and give it a name that you'll recognize. Names are arranged alphebetically in the Interferes tab. Checking "submit to Interferers Library" will send it to MetaGeek for review. If we see lots of the same signature, we'll look into adding it to the Interferers tab in the future.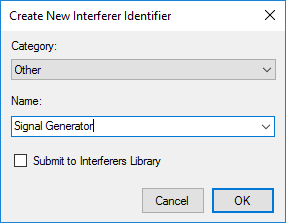 5. Look up the new signature in the Interferers Tab. Signatures are arranged alphabetically.