Wi-Spy DBx
"DB" stands for dual-band, which means that the Wi-Spy DBx can perform spectrum analysis in either 2.4 or 5 GHz. Since it supports 5 GHz, the Wi-Spy DBx fully supports 802.11ac. WiFi is rapidly moving to 5 GHz, which makes the DBx very future-proof. If you are a wireless professional or wireless network administrator who works with WiFi every day, get a Wi-Spy DBx.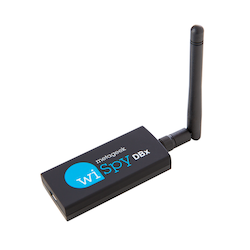 Compatibility
Wi-Spy DBx works with Chanalyzer and inSSIDer Office.
Wi-Spy 2.4x
The Wi-Spy 2.4x performs spectrum analysis in 2.4 GHz only. While the 2.4x isn't capable of troubleshooting 5 GHz 802.11n and 802.11ac deployments, it works well for technicians who only need to work with 2.4 GHz technologies, like ZigBee.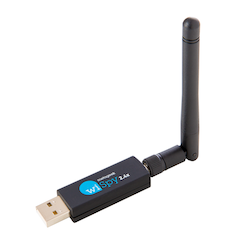 Compatibility
Wi-Spy 2.4x works with Chanalyzer and inSSIDer Office. If you're using inSSIDer Office, we recommend purchasing a Wi-Spy Mini instead of a Wi-Spy 2.4x.
Wi-Spy Mini
Like the Wi-Spy 2.4x, the Wi-Spy Mini is also limited to 2.4 GHz, but it small enough that you can leave it plugged into your laptop, making it perfect for avoiding interference and picking the best channel for your wireless network.
Compatibility
The Wi-Spy Mini only works with inSSIDer Office.