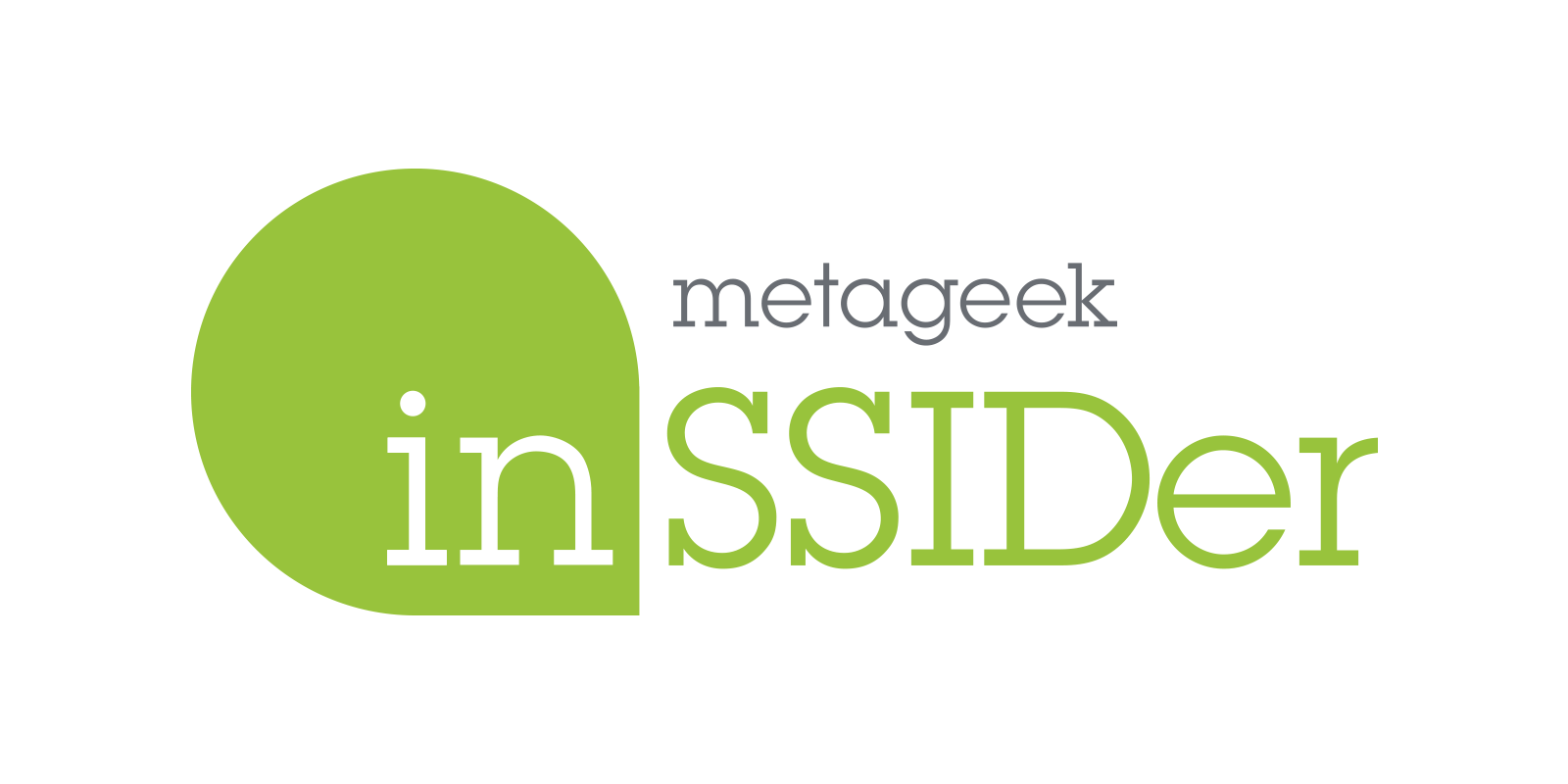 NOTE: As of June 30, 2017, inSSIDer 4 is no longer available for purchase.
Table of Contents
Physical and Logical Grouping
Networks, Channels and Filters
Networks Table Terms
Achieve Network Awesomeness
By performing a quick scan of your environment with inSSIDer, you'll be able to ensure you're operating your network on the best channel possible.
Channel decisions should not be made from just the access point's perspective. Using inSSIDer from the same locations where people use the WiFi will shed light on the best channel for every user.
inSSIDer 4 shows you where your neighboring WiFi networks are overpowering, helping you avoid co-channel and overlapping interference.
Cross Platform
inSSIDer 4 is cross-platform, which means that it is nearly identical on Windows, Mac OS X, and Android. This User Guide is for Mac and Windows, but concepts discussed here can usually be applied directly to the Android version. An Android-specific user guide is coming soon!
Physical and Logical Grouping
inSSIDer 4 groups access points Physically (multiple SSID's on one access point) or Logically (multiple access points with the same SSID, all part of one ESSID). You can select which mode to use with the Physical/Logical buttons.

Physical Grouping
With Physical Grouping, all virtual SSID's on the same radio are grouped together. Each line item then represents one physical radio on an access point that is the host of more than one (virtual) SSID's.
Physical Grouping Mode works best when you are working with a single access point. A common use case scenario for this mode might be picking the best channel for your home wireless network, or trying to find the best location for the access point for coverage.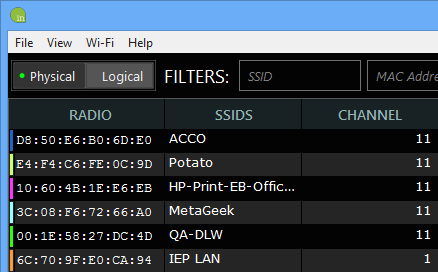 Radio Details
Select your Radio to open the Radio Details pane, which displays:
Radio Signal - Current signal strength of the radio in dBm.
Channel - Current channel of the access point.
Recommended - The channel that inSSIDer recommends you more your access point to for best performance. Check out this guide to find out how to change the channel on your home router.
Strongest Overlapping Radio - The loudest radio that is on an adjacent channel.
Strongest Co-Channel Radio - The loudest radio that is sharing the same channel as you.
On the right, each virtual SSID on the selected radio is listed, along with each respective MAC Address and Security type.
Towards the bottom, you can view the signal strength of your radio over time (blue), as well as the signal strength of the strongest overlapping radio (red), and the strongest co-channel radio (yellow).
To close the Details pane, click the X button at the top left of the pane.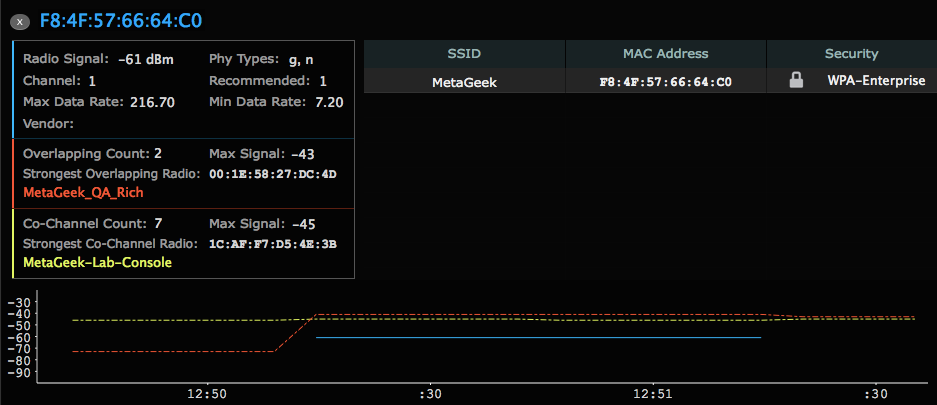 Networks Graph highlights the selected radio in blue. Overlapping networks are colored red (bad), and co-channel networks are colored yellow (better). All other networks are colored grey.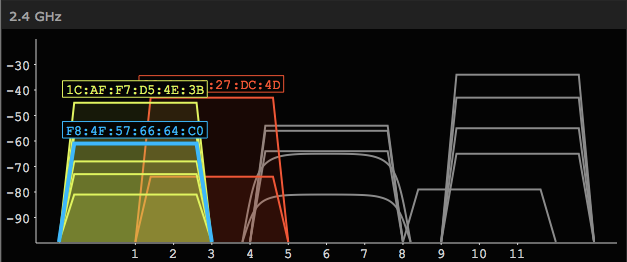 Logical Grouping
With Logical Grouping, inSSIDer 4 groups all access points with the same name as one logical network. Each line in the Networks Table is an ESS (Extended Service Set or ESSID), or a group of networks that all have the same SSID.
This mode works best when your network has more than one access point. A common use case scenario for ESSID Grouping is ensuring that your corporate network provides adequate or continuous coverage throughout a building.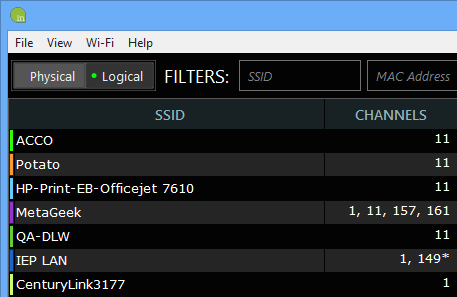 Details
Select your ESSID to open the ESSID Details pane where you can view the MAC Address, Channel, Phy Type, Security, Max Data Rate, and Signal of every SSID in your ESSID. Along the bottom of the pane is the Signal Strength Over Time graph.
To close the Details pane, click the X button at the top left of the pane.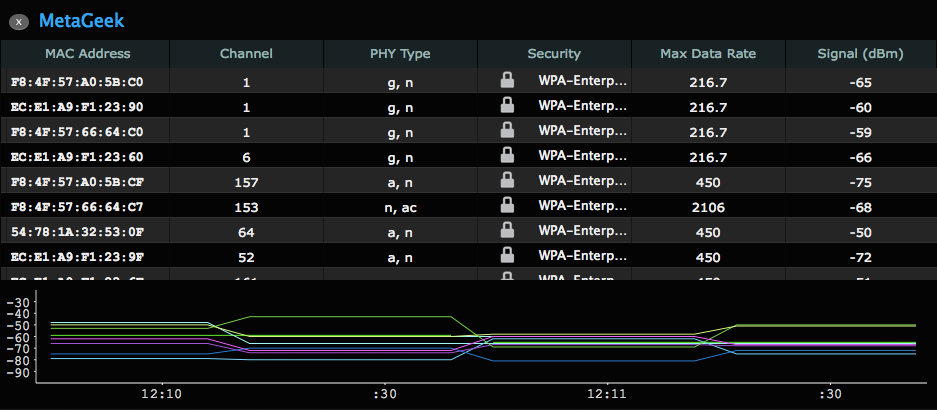 Similar to Physical Grouping, the Networks Graph highlights all of the SSID's in the selected ESS in blue. Overlapping networks are colored red (bad), co-channel networks are colored yellow (better), and a radio selected in the ESSID Details pane is colored white. All other networks are colored grey.

Networks, Channels and Filters
Networks Table
The networks table lists every nearby wireless network that your wireless adapter has detected. Networks are grouped by ESSID, or grouped by Radio depending on which mode is selected. Locate the ESSID group or radio that you want to optimize, and select it to view the details about the group.
Channels Graph
The shapes of the graphs correspond to the maximum supported data rates of the APs being detected.
802.11b network (max rate of 2 or 11 Mbps) will be drawn with a curved top.
802.11 a/g/n networks will be drawn with a flat top.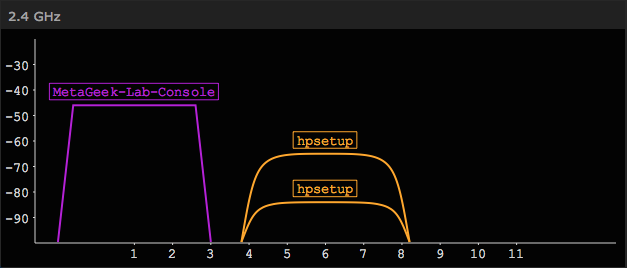 Filters
Above the networks table, you'll find the filter bar. 
You have the ability to filter by SSID, MAC Address, Channel, and Signal.

Type in the data you wish to filter by, and hit the enter key to apply the filter. Clicking the X next to your filter will remove it.

Colors
inSSIDer color-codes all networks and network groups. The color scheme is consistent throughout in swatches next to network names, network shapes, selected items, and details fields.
Rainbow Mode - Unselected networks with no grouping applied, most networks get their own color
Blue - Selected Radio Group or ESSID Group
White - Selected radio within an ESSID Group
Grey - Unselected network.
Red - A network that partially overlaps with your network, causing adjacent-channel interference
Yellow - A network that shares a channel with your network
Networks Table Terms
Familiarize yourself with a few acronyms and technical terms that inSSIDer 4 uses:
802.11 – The letters displayed in this column inform you of the 802.11 protocols in use by that Access Point.
Access Point - This is the hardware that WiFi devices wirelessly connect to. Sometimes these will function as a router, and are often referred to as a wireless router.
Channel – Each wireless network operates on a specific WiFi channel. Channels 1-14 are in the 2.4 GHz frequency range, while channels 36-165 are in the 5 GHz range. For best performance in the 2.4 GHz band we recommend channels 1, 6, and 11.
* (Asterisk) - In ESSID grouping, an asterisk/star indicates that the channel is 40 MHz wide.

Co-Channel Network - Every access point on the same channel cooperates and negotiates opportunities to transmit. This can slow down performance for every connected device.
MAC Address - This is a unique identifier for a wireless network or BSSID.
Overlapping Network - Stations and access points on an overlapping channels talks over each other on overlapping frequencies. This causes transmission corruption and slow performance for connected devices. Overlapping networks have a more severe impact on performance than co-channel networks.
Security – inSSIDer will display networks utilizing the following standard security settings: Open (Unsecured), WEP, WPA-Personal, WPA-Enterprise, WPA2-Personal, and WPA2-Enterprise.
In the Windows version of inSSIDer 4, hover your mouse over the security icon for encryption type details.
The lock icons represent the level of protection the network's security offers:
 Open Lock - Indicates a network that is unsecured. None of the data on the network is encrypted.
  Broken Lock - WEP, which is a very broken and insecure encryption method. This encryption method can be broken into in a matter of minutes.

 Closed Lock - WPA or WPA2 wireless security encryption. These are the best security options available today. We recommend WPA with WPS disabled, which is the most secure.
Signal - The amplitude level of the wireless network as seen by your computer's wireless adapter, also known as RSSI or "Received Signal Strength Indication". inSSIDer provides a line graph representing the signal strength over time.
SSID - Abbreviation of "Service Set Identifier", which is the name an 802.11 wireless network uses to identify itself.

 Link Icon - Indicates which access point you are currently connected to. This icon also appears within an ESS, so you can see which specific access point you are connected to on your network.

Wrap Up
inSSIDer 4 is a great WiFi discovery tool that will give you the information you need to make an informed decision about the proper channel for your wireless network. When you can see how your network is affected by co-channel and overlapping networks, it becomes more clear how choosing the right channel is the first step in alleviating WiFi issues.