Why is Chanalyzer using my wireless card instead of Wi-Spy?
Why can't I select Wi-Spy in the WiFi menu in Chanalyzer?
Why can't I see SSIDs?
Chanalyzer pulls data from two sources. Wi-Fi data is pulled from your wireless card/Wi-Fi adapter, and spectrum analysis data is pulled from the Wi-Spy.
WiFi Data vs Spectrum Data
WiFi Data
WiFi data (networks, signal strengths) is pulled from your Wi-Fi adapter. Using your wireless card to collect wireless beacons allows us to collect a lot of information about your wireless environment from a WiFi perspective. We get to see:
SSIDs
Signal Strengths
Channels
Security types
MAC addresses
Max data rates
AP vendors
802.11 Phy Types
Here are a couple of examples of data that can be pulled from a normal wireless card:

Spectrum Data
On the other hand, spectrum data is pulled from Wi-Spy 2.4x or DBx, which is a USB spectrum analyzer. Unlike a Wi-Fi adapter, it can see all of the raw radio frequency activity around you (Layer 1 of the OSI model), which is very useful for avoiding busy channels, or interference.
Here is an example of spectrum data: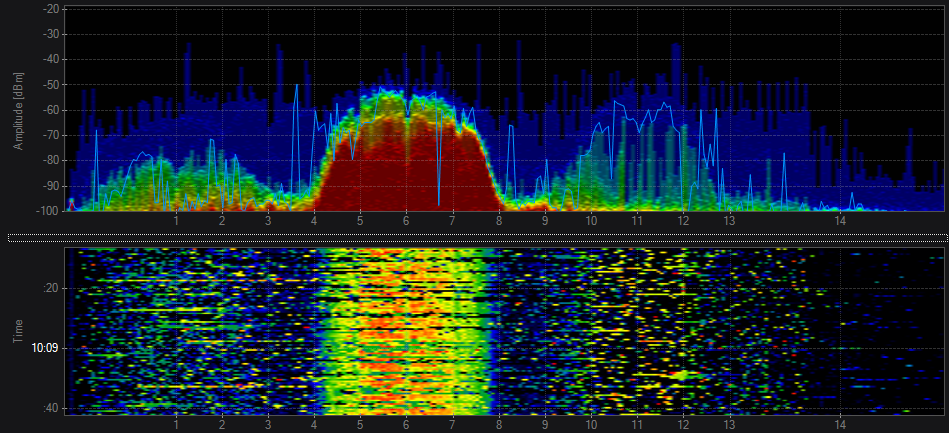 Wi-Fi Data and Spectrum Data Together
When you put both Wi-Fi and Spectrum Data together, something really special happens. You can compare what your wireless card is seeing (wireless networks) with what Wi-Spy is seeing (raw radio frequency activity). Now that you know where your wireless networks are, you can ensure that they aren't being affected by interference.