Registration
When Eye P.A. is first opened, it will prompt you to fill out your registration information. Copy and paste in your license key, and fill out the name and email fields (the company name field is optional). Afterwards, the Register button will activate.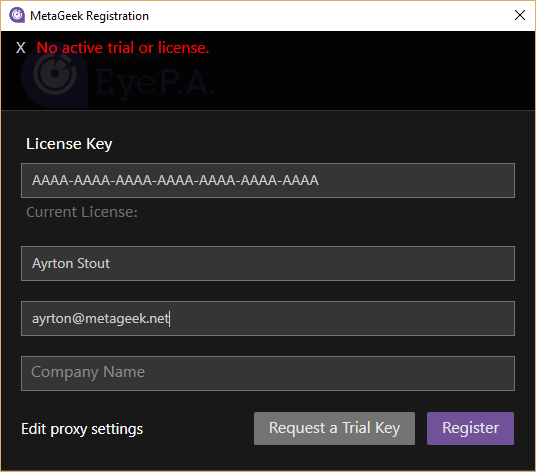 Note: The License Key field can be either a trial key or the standard base key that you received for purchasing Eye P.A.

Note: The email that you use to register your key is the same email you will use to manage your license in the future.
Click register, and after a brief pause, the key should activate.
If you already have a trial license active and decide to buy Eye P.A., you can return to the registration window by clicking the Register button in the upper right corner of the window.

Note: You can also register through the Help menu. Both options lead to the same place.

Check License Key and MetaCare Expiration

If you would like to view the activated key, select Help > About Eye P.A. The key is displayed in the About window.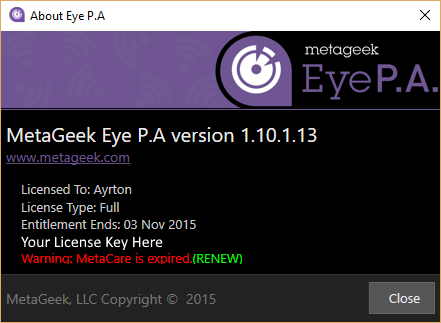 Note: If your MetaCare is expired, you will be unable to upgrade to the latest version of Eye P.A. Details of how to renew your MetaCare can be found on our MetaCare page.

Trial

Eye P.A. does not include a trial by default, but a 14-day trial license can be requested from the Eye P.A. trial key page. This license is fully featured during the trial period.