inSSIDer Office will give a Security Warning if your network is using WEP.
WEP is known to be flawed as a wireless security type. WEP is easily cracked with free tools, allowing a potential malicious hacker to access your network resources and monitor your wireless traffic.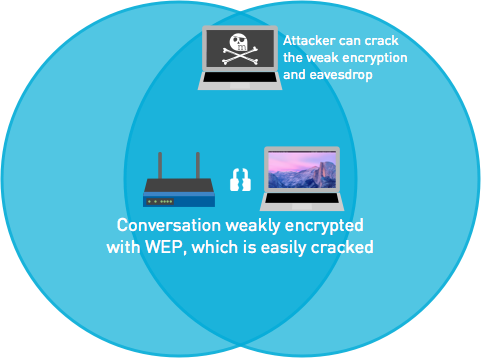 Recommended Actions
Switch to WPA2 with a strong password for maximum wireless security.
Use WPA only if you need to support legacy wireless devices. While not as secure as WPA2, WPA is far more secure than WEP.
Disable WPS, which as a part of WPA/WPA2, is easy to brute-force attack.
Security Comparison Chart
| | | |
| --- | --- | --- |
| WPA2 | | Best |
| WPA | | Good |
| WEP | | Bad |
| WPS (with WPA or WPA2) | | Bad |
| Open (No Security) | | N/A |
Technical Background