If your Wi-Spy 900x (discontinued), 2.4x, or DBx is not detected by your computer, follow these troubleshooting steps.
Troubleshooting Wi-Spy Hardware
1. Make sure you are using the latest version of Chanalyzer 5.

2. Check to see if the Wi-Spy is detected by looking in the lower-left corner of Chanalyzer 5. If Chanalyzer 5 says No Wi-Spy Devices, move on to the next steps.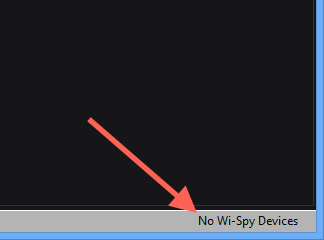 3. Try a different USB port on your laptop.
4. If you have a Wi-Spy DBx that uses a MiniUSB cable, try using a different MiniUSB cable.
5. Try your Wi-Spy on a different machine.
Replacement Hardware
If none of these steps resolve the issue, MetaGeek will replace any device within one year of it's purchase date. Contact MetaGeek support for a replacement.
If purchased from MetaGeek, provide your MetaGeek order number
If purchased from a MetaGeek reseller, provide a copy of your purchase invoice in either PDF or JPEG format