inSSIDer Office (not available)
inSSIDer Office is a network troubleshooting and optimization tool, commonly used by IT professionals in small to medium-size office environments. WiFi scanning data (from your wireless adapter) is augmented with spectrum analysis data from the Wi-Spy, so you can:
Pick the best channel for your single-AP network
Perform basic channel-planning on a small multi-AP network
Verify security settings
Verify performance settings
Perform coverage spot-checks
Save Wi-Spy recordings to open up in Chanalyzer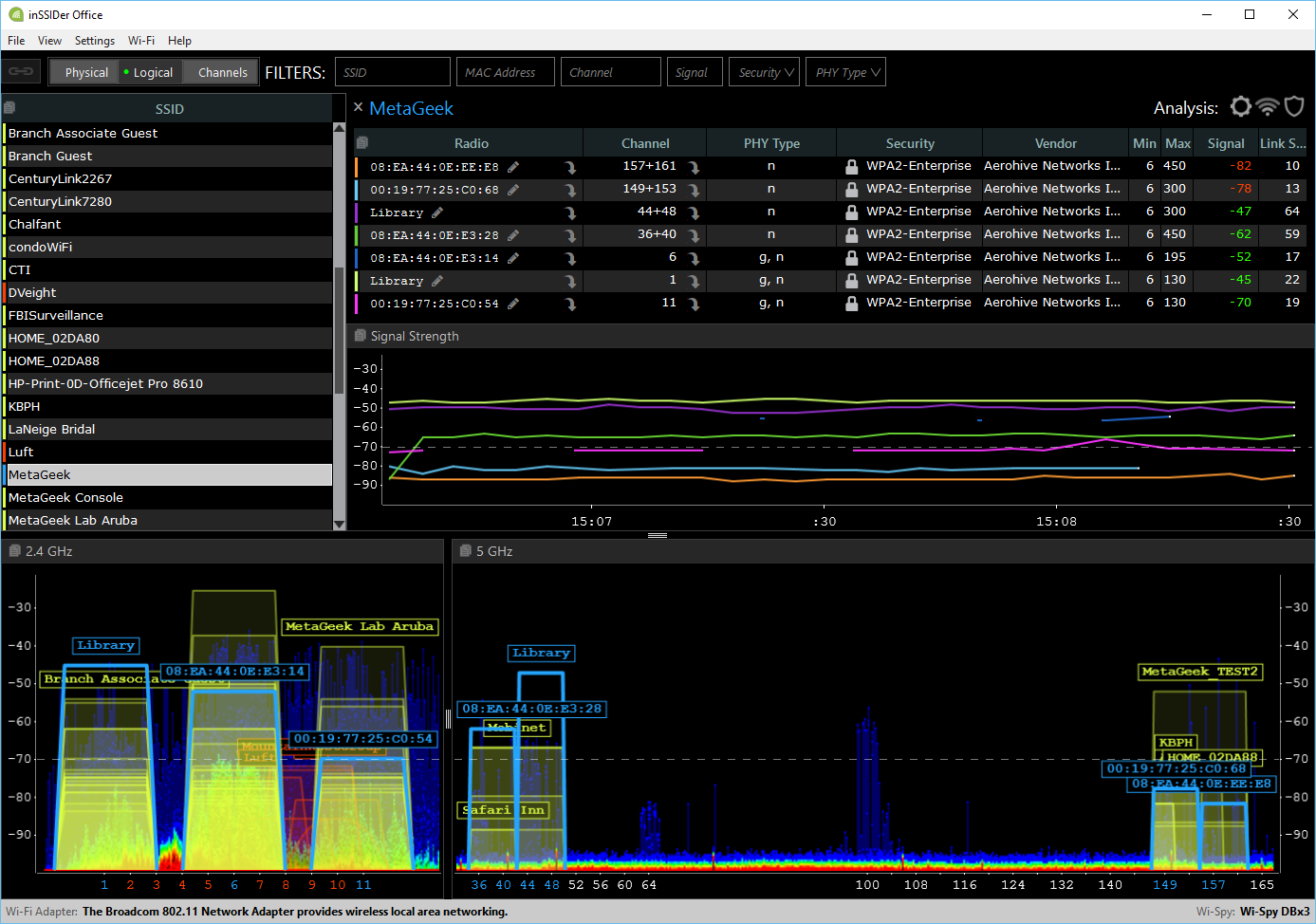 Here's one example of how inSSIDer Office and Chanalyzer differ. inSSIDer Office highlights your entire network, and shows how other access points interfere with special coloring rules.
Chanalyzer 5
Chanalyzer 5 is a professional, portable spectrum analyzer for WiFi troubleshooting on enterprise-grade networks. The focus is the spectrum analysis data from the Wi-Spy, but wireless network data from your wireless adapter is available as an overlay.
Chanalyzer 5 is designed for wireless LAN professionals who deploy and maintain enterprise-grade networks in corporate, healthcare, industrial, and educational environments. It also works great for engineers who need to mix WiFi and non-WiFi technologies (like ZigBee) in home environments. It has the features to identify and physically locate non-WiFi interference, not just avoid it like inSSIDer Office.
Identify non-WiFi interference
Physically locate non-WiFi interference with the Device Finder Accessory
Save and open recorded sessions
Accurately measure channel utilization
Record spectrum analysis data during site surveys
Build reports with the Report Builder Accessory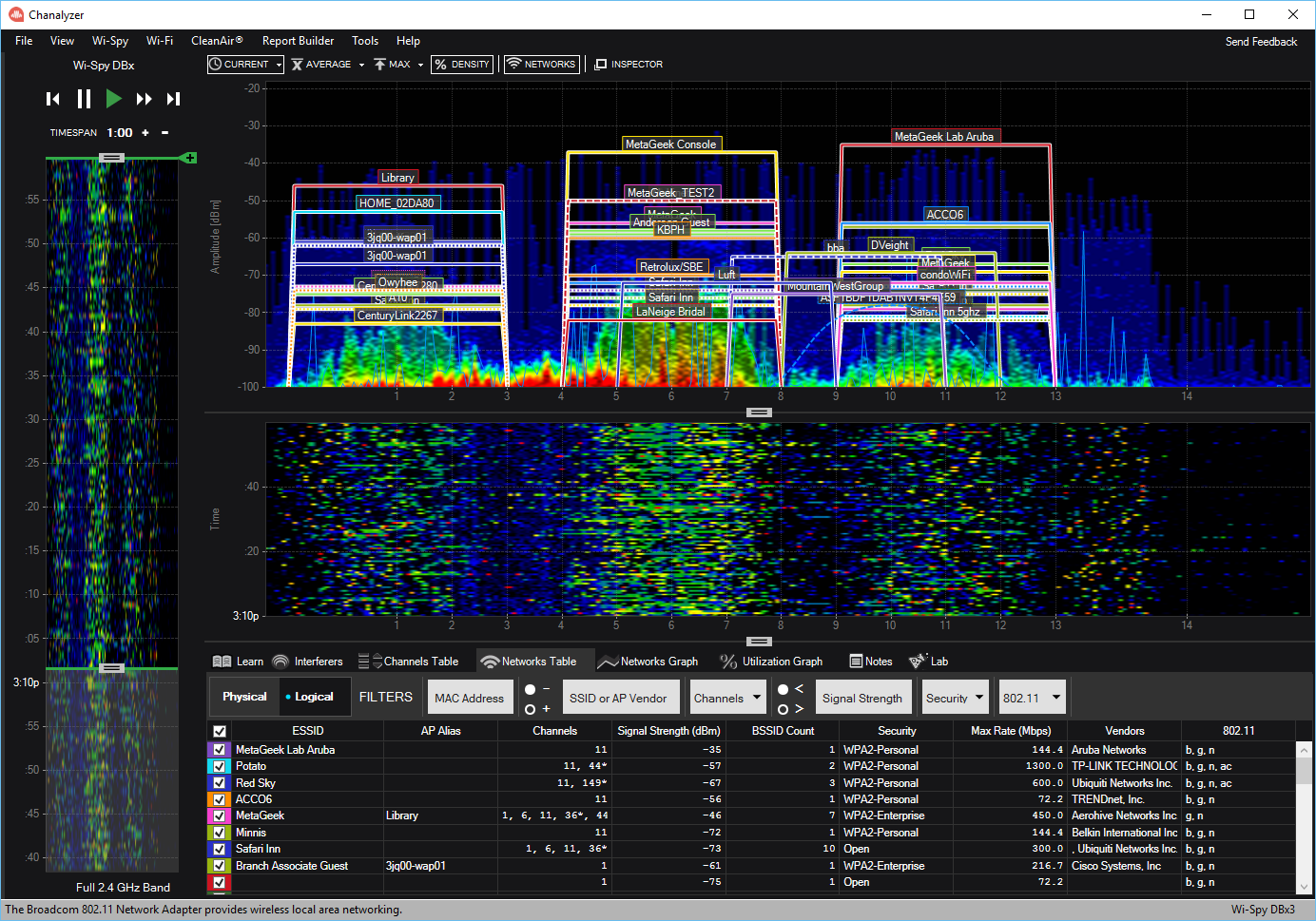 Chanalyzer shows the exact same WiFi data as inSSIDer Office, but without any of the special coloring rules to show how other networks interfere. Instead, Chanalyzer allows you to sort and filter AP by AP, so you can see the exact data you want with no hand-holding.
Comparison Chart
This chart isn't comprehensive, but it highlights how inSSIDer Office gives simpler results, while Chanalyzer gives more detailed results for experts.
| | | |
| --- | --- | --- |
|   | inSSIDer Office | Chanalyzer |
| Timespan | 2, 5, or 10 minutes | Infinitely Adjustable |
| Density View | ✓ | ✓ |
| Waterfall View |   | ✓ |
| Report Builder |   | ✓ |
| Save Wi-Spy Recordings | ✓ | ✓ |
| Play back Wi-Spy Recordings |   | ✓ |
| Avoid Interference | ✓ | ✓ |
| Identify Interference |   | ✓ |
| Locate Interference |   | ✓ |
| Simplified WiFi Scanning | ✓ |   |
| Advanced WiFi Scanning |   | ✓ |
| Automatic Channel Recommendation | ✓ |   |
| Automatic Analysis Alerts | ✓ |   |
Conclusion
inSSIDer Office and Chanalyzer 5 have similar features, but they are built for two different types of users who need to perform different tasks. IT professionals who don't specialize in WiFi will find that inSSIDer Office is easy to use, while WLAN professionals and specialists will utilize Chanalyzer 5's advanced features.