inSSIDer 4, inSSIDer Office, and Chanalyzer 5 all run great in a virtual machine (also known as a VM) on Mac with Parallels or VMware Fusion, but there are some considerations to be made.
MetaGeek products (excluding Eye P.A.) use Wi-Spy for spectrum analysis data, and a normal WiFi adapter for WiFi scanning. Both a Wi-Spy and a WiFi adapter must be available to get full functionality from the software.
WiFi Scanning
MetaGeek products need direct access to a WiFi adapter to scan for wireless networks. The AirPort adapter in OS X doesn't count, because network traffic is bridged through like ethernet. The result is that Windows doesn't have direct access to the WiFi adapter to scan for wireless networks.
The solution is to use a USB WiFi adapter in addition to the Wi-Spy.
1. If you don't already have a spare WiFi adapter, use our WiFi Adapter Buyer's Guide to purchase an inexpensive adapter.
2. Connect your WiFi adapter to your Mac.
3. Tell VMware Fusion or Parallels to connect the adapter to your virtual machine.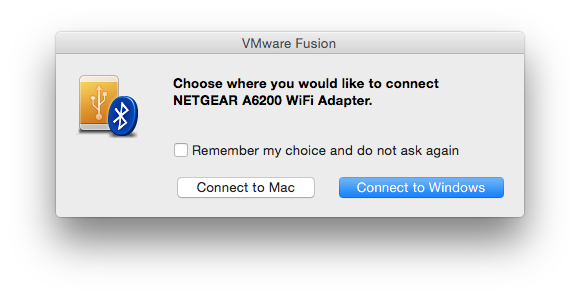 4. Install drivers in Windows