Need to buy a WiFi access point or router? Look no further than this guide!
Ok, actually, you'll probably want to look further than this guide, but this should help you gain a basic understanding of what to watch out for when you shop.
Checklist
Here's a quick checklist of what to watch out for when sourcing WiFi access points. We'll dive into the specifics of each one later on.
Supports either 802.11n, 802.11ac, or 802.11ax
Dual-band (supports both 2.4 and 5 GHz)
The more spatial streams, the better (2x2 or 3x3 spatial streams)
Appropriate SOHO or Enterprise
802.11ac or 802.11ax Support
802.11ac and 802.11ax are two newest standards, 802.11ac debuting in 2014, and 802.11ax in 2019.
Do you really need an 802.11ac or 802.11ax WiFi access point? Probably not. Yes, they do have some cool tricks up their sleeves to get us faster speeds, but only when conditions are absolutely perfect:
You have room for 802.11ac's super wide channels
You have 802.11ac devices
Devices will be very close (20 or 30 feet) to the access point
A properly designed 802.11n network will perform better than an improperly designed 802.11ac or ax network, so prioritize design and understanding over spending extra money on an 802.11ac/ax network.
Dual-Band Support
The 2.4 GHz band is becoming increasingly crowded and less functional. Some professional wireless engineers are even declaring: "2.4 GHz is dead!"
Right now, we recommend providing 2.4 GHz support for compatibility with older devices, and 5 GHz support for newer devices, so you'll want to purchase a dual-band access point that supports both 2.4 and 5 GHz.
Although 802.11n is a 2.4 and 5 GHz standard, many 802.11n devices support 2.4 GHz only. When looking at the specifications for the AP, look for one of the 5 GHz standards to ensure that it supports both bands.
| | |
| --- | --- |
| 802.11b/g/n | All 2.4 GHz standards, so it supports 2.4 GHz only |
| 802.11a/b/g/n | 802.11a is a 5 GHz-only standard, so it supports 5 GHz |
| 802.11a/b/g/n/ac | 802.11ac is a 5 GHz-only standard, so it supports 5 GHz |

Watch for 802.11a and 802.11ac support on the WiFi certification logo!
More Spatial Streams!
802.11n introduced MIMO (multiple in, multiple out). We could spend hours talking about multipath, spatial multiplexing, and maximal ratio combining, but not here. We need to focus!
Basically, MIMO means that we get multiple radio chains and antennas to transmit and receive with. The more radio chains, the more sensitive the WiFi radio is, which makes it better at accurately sending and receiving. This gets us more reliability and speed.
Most small devices like cell phones and tablets have a 1x1 radio (1 radio chain) to conserve space and power. Laptops generally have either a 2x2 radio (2 radio chains) or 3x3 radio (3 radio chains).

Smaller and cheaper clients generally have fewer spatial streams, but that's okay. Let's give them a good AP to connect to.
On an access point, try to go with at least a 2x2 radio, but 3x3 is best. This will yield the best speed and performance, even if you have a bunch of 1x1 and 2x2 clients.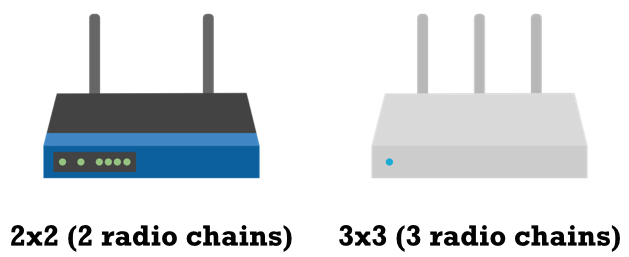 The more spatial streams, the better! Try to go for a 3x3 AP if you can, but 2x2 is okay.
SOHO or Enterprise?
There's a big difference between a SOHO (small office, home office) router, and an enterprise-grade access point. In a home environment, a $40 SOHO router is a great choice, and will handle a few clients with ease.
In a serious high-performance environment, a pile of off-the-shelf routers from Buy More most likely won't perform well.
| | |
| --- | --- |
| Small Office/Home Office | Enterprise |
| ~25 client Max | 100's of clients (you run into channel limitations before AP limitations) |
| $30-100 each | $400-1000 each |
| Poor roaming performance (users might have to toggle WiFi off and back on) | Better roaming performance |
| No band steering (users have to manually select the 5 GHz network) | Proper band steering (users are automatically put on the best band) |
| Few configuration options | Highly configurable for specific, high-performance network designs |
| Combines modem, switch, AP, and router functions | AP only |
| | Usually requires a controller or cloud management |
Conclusion
We hope this article will help you select the best access point for your use case. Remember, the four things to consider are:
Get a WiFi access point that supports 802.11n, 802.11ac, or 802.11ax
Make sure that it supports 5 GHz, so you can be ready for the future
The more spatial streams, the better!
SOHO routers are great, but don't skimp if you really need an enterprise network
Don't forget to get some tools so you can properly configure your network! inSSIDer Office + Wi-Spy Mini is a great tool to help you configure your new network for the best performance and reliability. Learn more about inSSIDer Office + Wi-Spy Mini here!