Thanks for buying Visiwave Site Survey from MetaGeek! This article will desribe how to activate the software with the license key that you purchased.
First, make sure you download and install Visiwave Site Survey on your machine.
In your order confirmation or shipping confirmation email, if you scroll down to the License Information section (near the thumbnail picture of the product you purchased), you'll see a string that contains your Visiwave Order number and the License Code.  It will look something like this: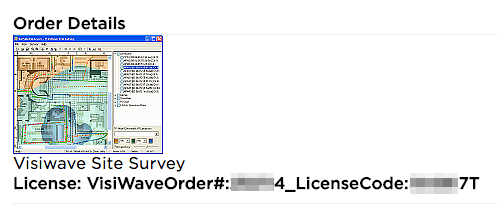 To register your copy of Visiwave, you'll need to type this information in the activation screen when you first run the Visiwave Site Survey software.
Your "Visiwave Order Number" (XXXX4 in the example above)

Your "License Code" (XXXX7T in the example above)
If you have any activation questions, please contact Visiwave support at support@visiwave.com.