Occasionally, when you try to register your software you may be presented with an error message stating that 'The given product key was not found'.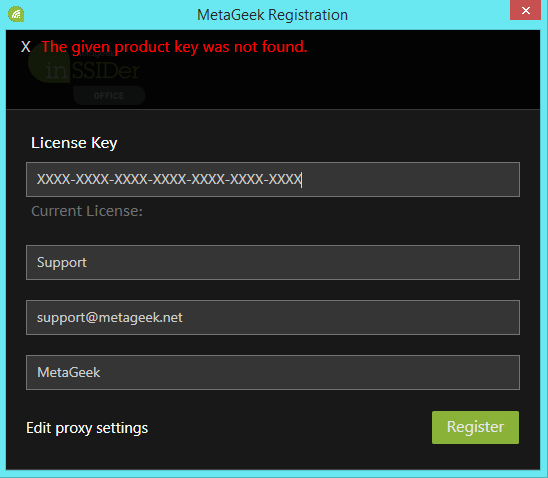 If that happens, there are a few quick things you can try to correct the error.
Verify that you entered in the correct license key
Some numbers and letters look very similar in your license key (the letter "i" and the number "1" for example). The safest route is to paste your key directly from your order email into the registration window.
Verify that you downloaded the correct application
Some of our products have similar names so it is very easy to download the wrong application.
If you think that might be causing the error you are seeing, please:
Uninstall the application you previously downloaded
Download and install the correct application from the direct download links below:
(Trial Keys Only): Verify that you have not tried out this application on your machine before
When you activate a trial key on your machine to try out MetaGeek software, our licensing system creates a unique fingerprint for your machine. To prevent trial abuse, the system is set to only allow a machine to try out software once per trial key.
For that reason, if your machine has been used to try out MetaGeek software before using a trial key and you try to use the same key to do another trial again, you'll get the "given product key was not found" error.
If you have an extenuating circumstance that requires you to trial the same MetaGeek application more than once, please Contact Support and we can help you out! 
See also: Where can I get a Trial Version?
If none of the above suggestions worked for you, please contact us so we can help you.