MetaGeek's philosophy on trademarks
MetaGeek's trademarks are MetaGeek's intellectual property and are important and valuable assets of our business. Trademarks must be used properly. Follow these guidelines for using MetaGeek's trademarks properly in all communications, documents and electronic messages.
Who do these guidelines apply to?
These Guidelines apply to MetaGeek employees, customers, licensed resellers, consultants, outside vendors, and other third parties who have been approved to use the MetaGeek logo.
Using MetaGeek's trademarks and logos
You may refer to MetaGeek products or software by their associated MetaGeek trademark, so long as such references (a) are truthful, fair, and not misleading, and (b) comply with these Guidelines.
Trademarks
Wi-Spy, MetaGeek, Chanalyzer, Eye P.A. and "Visualize your wireless landscape" are registered trademarks of MetaGeek, LLC. "inSSIDer", is a trademark of MetaGeek, LLC. © Copyright 2005-2013 MetaGeek, LLC. All comments are owned by the poster.

General Guidelines
Follow MetaGeek's Trademark Rules.
Use the appropriate trademark and/or logo.
Do not incorporate MetaGeek trademarks or logos into your own product names, service names, trademarks, logos, or company names, and do not adopt marks or logos that are confusingly similar to MetaGeek's marks and logos.
Do not make your own version of MetaGeek official logos. Third-party use of MetaGeek's logo and product brand names requires a license or written permission from MetaGeek. If you are interested in obtaining a license to use a MetaGeek mark or logo, contact us at sales@metageek.net.
The MetaGeek corporate logo is the primary element in our company signature. Consistent application of this single brand signature strengthens the MetaGeek identity throughout all of our communication materials.
The MetaGeek corporate logo and specific product logos for the Chanalyzer, inSSIDer, and Eye P.A. families is available to all authorized resellers in our Reseller Kit or by special request.
Always treat the words of MetaGeek in text as "MetaGeek" or "MetaGeek, LLC". Never try to mimic the logo in text using different fonts or treatments.
Always use clear space around the MetaGeek logo (as shown below).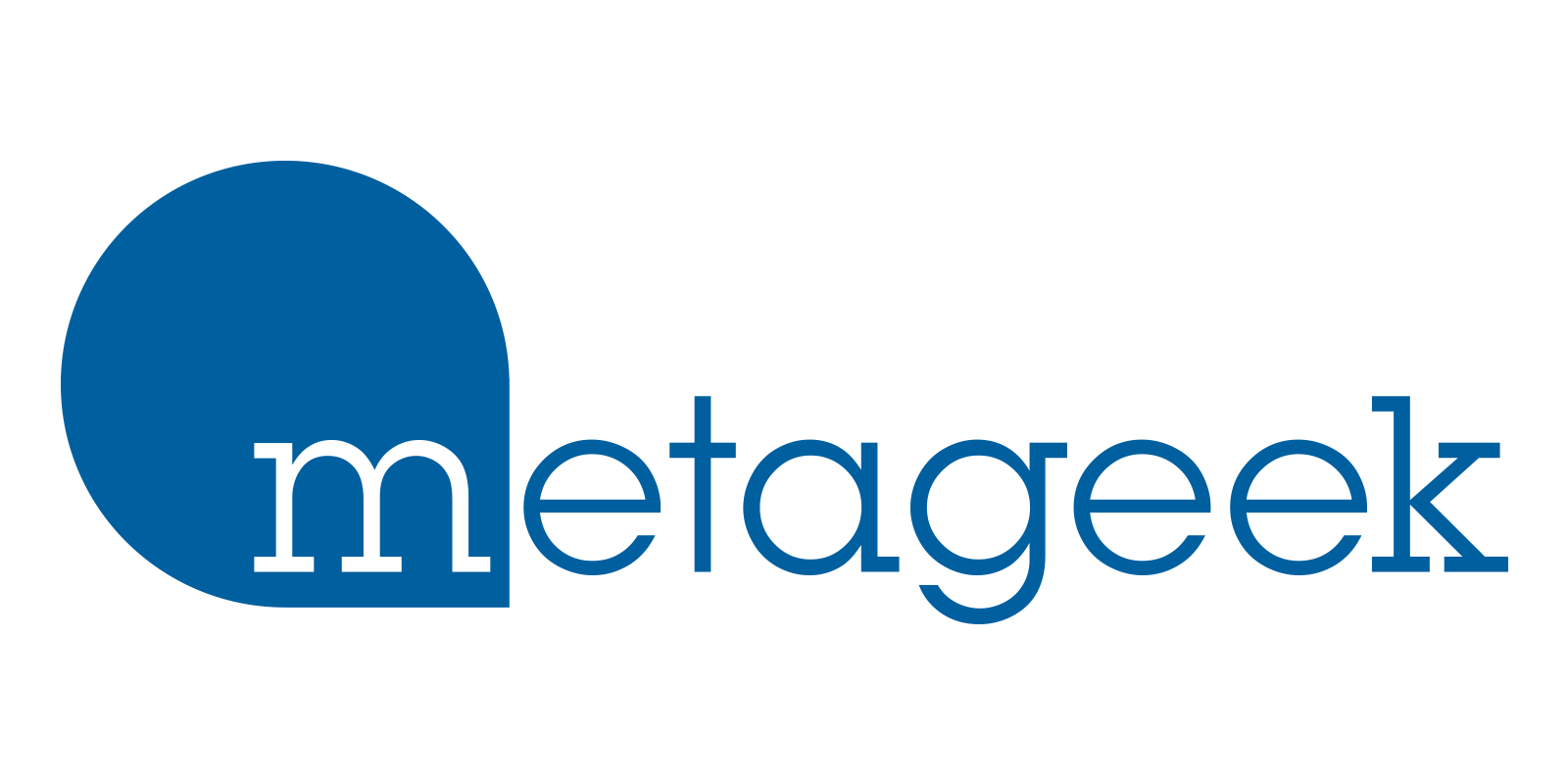 Choose the appropriate logo based on the color of your background. On a white background, use the Black or Dark Blue logo. On a >50% black or color background, use the White logo. Avoid placing the logo over complex images or patterns – solid areas are preferred.
For more logo, typography, and color palette usage guidelines, see the Brand Identity Guidelines PDF.
High-resolution images of MetaGeek hardware and software are available to all authorized resellers in our Reseller Kit or by special request.
MetaGeek product copy is available to all authorized resellers in our Reseller Kit or by special request. You are free to write additional copy about MetaGeek product, provided that it's truthful, not misleading, and is close to the spirit of our original copy. Please ask for a review by a MetaGeek representative if you are unsure or have questions.
MetaGeek product copy can be translated into additional languages at your cost. It is currently provided to resellers in American English only.
When referencing MetaGeek products, use the following structure and punctuation in writing product names in text:
Wi-Spy DBx
Wi-Spy 2.4x
Chanalyzer
Eye P.A.
inSSIDer
6. Typography
Primary Font: Din
Secondary Font: Rockwell
Brand Font: ITC Libalin Graph Std.
Do not attempt to reproduce the font of the product logo in any way. Alway use the same typeface as the surrounding content when referencing MetaGeek products.
Colors have been assigned to MetaGeek logos and identities, and should be used consistently within those product lines. White / Clear Space should be kept at a premium. To see a list of MetaGeek colors in PMS, HEX, and CYMK format, see the Brand Identity Guidelines PDF.
Questions?
If you have any questions about these guidelines, please contact your sales representative for more information at 
sales@metageek.net