Other than providing sufficient wireless coverage, one of the most important things you can do to deploy a good wireless network is proper channel planning.
A good channel plan:
Places access points on non-overlapping channels to eliminate adjacent-channel interference
Keeps same-channel access points as far apart as possible, so they don't have to take turns talking, reducing co-channel interference
inSSIDer Office offers channel recommendations, which can be used to pick the best channel on a single access point, or to help select channels for multiple access points.

Our 2.4 GHz radios at MetaGeek, properly planned.
Channel Planning with inSSIDer Office
1. Configure all access points with the same SSID and security settings. For now, don't worry about channels.
Note: In some cases, you may give both the 2.4 or 5 GHz bands the same SSID, or you might give them unique SSID's to allow users to pick which band to connect to.
2. Find an access point on the edge of the building, and stand next to it with your laptop.
3. Select Physical mode is selected in inSSIDer Office.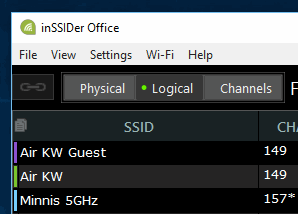 4. Find your 2.4 GHz radio in the list, and select it.
Tip: Click on the SIGNAL column to sort by signal strength, the loudest radio should be the closest.
5. Record the Recommended channel.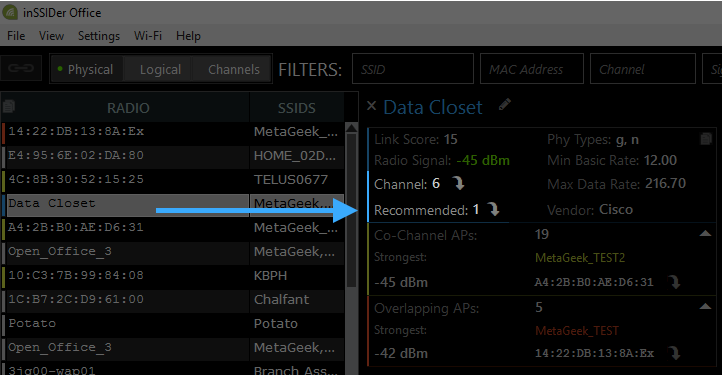 6. Configure your access point to the recommended channel.
7. Confirm that the access point has switched to the new, recommended channel.
8. Go to the next closest access point, and repeat steps 4-7 on each access point until every access point has been assigned a recommended channel.
Tip: If your access points support 5 GHz, you should do this process for the 5 GHz band as well. You can either do it at the same time as the 2.4 GHz, or in a second pass later on. Just be sure that it gets done!
Wi-Spy Notes
Adding a Wi-Spy gives inSSIDer Office both WiFi scanning data (from your WiFi adapter) and spectrum analysis data (from the Wi-Spy). 
With spectrum analysis data, inSSIDer Office is able to see how busy each channel really is, as well as any non-WiFi interference, making it's channel recommendations far more accurate. You can find out more about how Wi-Spy makes inSSIDer more accurate here.
Channel Selection Algorithm Notes
In a best-case environment, inSSIDer Office will assign access points evenly between channels 1, 6, and 11. If there is excessive interference on one channel, it may only assign a couple of channels. For example, if your neighbor has a cordless phone on channel 11, inSSIDer Office will stick to assigning channels 1 and 6 to avoid the non-WiFi interference.